Long time no blog post, but I wanted to let you all know that I shall be taking part in a fantastic fundraising challenge this month.  I will be joining friends to complete the Three Lakes Challenge –  rowing 38 km along the three longest lakes in the Lake District – Windermere, Ullswater and Coniston Water – in under 12 hours.  Our target is to raise £2,000 for CancerCare, a wonderful local charity that offers a wide range of free professional  therapy services, designed to help individuals and their families come to terms with and manage the challenges of a serious health condition.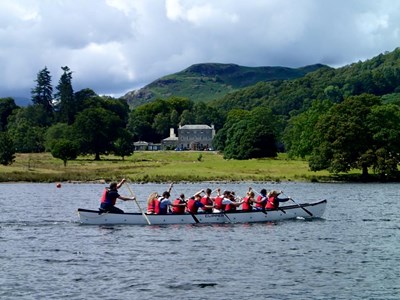 This challenge has been organised by my friend Susie Bate and her family.  In September 2014 (the same week that I was diagnosed with breast cancer) tests showed that Susie had myeloma, a form of cancer affecting the bone marrow.  I was lucky – my surgery and treatment happened very quickly and I was soon on the road to recovery – but Susie's surgery to remove spinal tumours and her subsequent bone marrow transplant were much more serious and involved lengthy stays in hospital.  Nonetheless as you can see from the photo below nothing wipes the smile from Susie's face and she continues to be an inspiration to all who know her. How typical that her positive thinking has led her to plan this special Celebration of Life for her family and friends, which will also raise money for an organisation that has helped us both.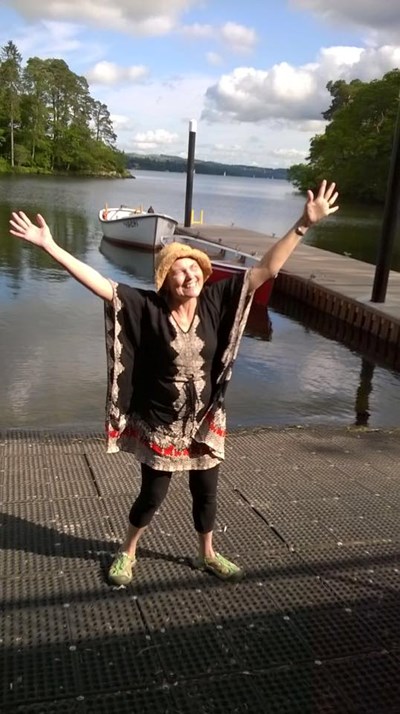 Admittedly when a friend first suggested I checked out CancerCare's services, I was dubious – I don't take kindly to illness and would rather avoid it whenever possible.  I secretly thought it might be a bit depressing to be in the company of other people who were or had been ill, and that the organisation might be a bit gloomy.  How wrong I was! CancerCare in Kendal has a lovely bright, airy building with kind, cheerful and welcoming staff.  Before long I was having deliciously relaxing aromatherapy massages with a wonderfully skilled therapist, and have since joined a singing group which meets weekly. Far from taking things too seriously, we have a great laugh together (and home-made cake!)  Under the inspiring guidance of our natural voice teacher David Burbidge – who has a knack of encouraging people to enjoy singing even if they think they can't – we learn simple harmony songs from around the world and are often amazed at the beautiful sounds that we manage to make together. 
CancerCare offers a raft of other services including counselling, hypnotherapy, Alexander technique and children and young people's therapies, as well as a range of arts and crafts groups. It has worked with over 22,000 local people affected by cancer and life limiting conditions over the last thirty-odd years, so I'm sure it will have touched the lives of some people reading this. I would so appreciate it if you would visit the JustGiving page which Susie's daughter Natalia has set up and help us to reach our target.
I'll let you know how it goes – it's a while since I did the kind of leisurely paddling which is normally the limit of my exertions! Here's hoping for some spring sunshine and maybe the glimpse of a kingfisher or two.
'There is nothing – absolutely nothing – half so much worth doing as simply messing about in boats'. – from 'The Wind in the Willows'